Ms. Naila Ashfaq: A Story of Resilience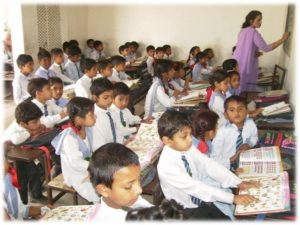 Ms. Naila Ashfaq completed her B. Ed and has been running DAMEN's home school in Phoolnagar for the last one year. Before marriage she was a teacher in private school. However, after marriage her husband did not permit her to teach outside the home so she started a private tuition center in her home. When she heard about DAMEN's Home School Education Program from our social organizer, Ms. Nasrin, she got motivated to start a school of her own. Even though a government school is available in her area but it is located at a long distance preventing many young children, especially girls, from going to school. Her school was immediately a success and she had a huge number of students keen on studying with her. With the monthly financial and technical assistance provided by DAMEN, she was not only able to run her school successfully but also managed to attract more than 100 students in her home school, and has also hired additional teachers to cater to the growing demand. She wishes to expand education facilities in her area to create a healthy social environment and provide educational services to a greater number of children and youth.
Ms. Asiya Sajid: The Math Genius
Ms. Asiya Sajid always had a passion for education and teaching, especially for math. She started teaching in a local private school right after completing her Matric, and finished her intermediate studies a few years later. Her interest to teach was such that she was even able to convince her husband to allow her to teach despite the fact that he was reluctant at first, as is the custom in their village. However, her desire to impart knowledge to her community members emerged stronger and she started teaching in her own home without charging a fee from the poor children who enrolled with her. Then Ms. Asiya ran into DAMEN's social organizer and heard about the home school education program, for which she became interested. It has now been 3 years since Ms. Asiya affiliated her home school in Pattoki with DAMEN and is a regular participant in the teacher training workshops conducted by DAMEN's training staff. She is also one of the very few teachers to make use of technological teaching aides (mobile phone applications) to explain difficult concepts to students particularly for English and Mathematics. Her plans for the future are to start computer classes for the neighbourhood children and youth during the evenings. We wish her best of luck for her ambitious goals!
Ms. Ume Farwa: A Progressive Mother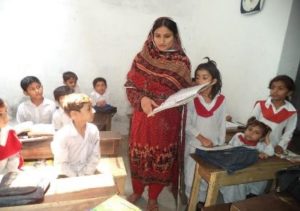 Ms. Ume Farwa is a 28 year old teacher, mother and wife. She completed her Intermediate studies from Syed Abid Hasan Foundation Girls High School and started giving tuitions to neighbourhood children, after her marriage. She initially took a loan from DAMEN (now DSP) to construct a  room  for  a  school, which she wanted to open in her home. Once this was accomplished she applied to become a home school teacher in collaboration with DAMEN. She now operates a school in Niaz Baig with more than 50 students enrolled, most of whom were not attending school prior to coming here. Despite being the primary caretaker of 4 young children at home, she is a regular and enthusiastic participant of DAMEN's teacher training workshops. She wishes to expand her school, provide education to an even greater number of children and one day see her school achieve immense success and prosperity.
Ms. Robina Shaheen: A Much Needed Support
Ms. Robina Shaheen is a progressive health worker and certified LHV who provides subsidized healthcare services in Nankana Sahib. Up to 500 patients visit her clinic every month, and many poor patients visit the free health camps which she sets up on a monthly basis to address maternal and basic healthcare issues. In lieu of her stipend, she does not charge her patients more than PKR 10 each for both diagnostic services and medicine provision. She has therefore provided quality healthcare service at an affordable rate for the poor residents of Nankana Sahib.
Ms. Farhat-un-Nisa: A Service to Humanity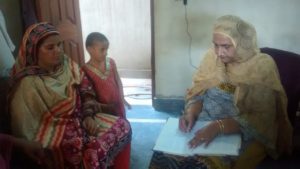 Ms. Farhat-un-Nisa has extensive experience of more than 30 years in the field of health care. After acquiring her LHV degree she worked at a health center, BHU center and government hospital. In 2015, she heard about DAMEN's health care program, and started her own clinic with the help of DAMEN's monthly subsidy, and has been providing subsidized health care and health camp facilities to poor patients in her neighbourhood of Chung since then.